This year Passover falls on April 19 with the celebration beginning at dusk on the 18th.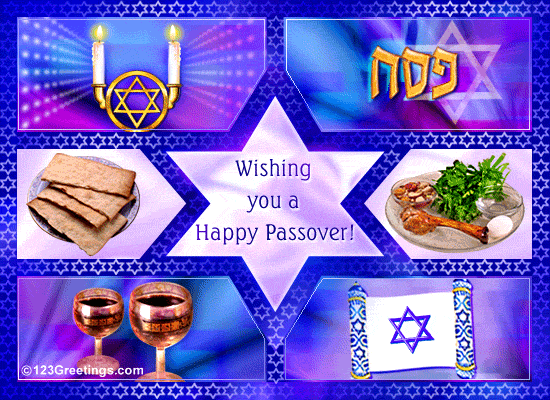 Essentially Passover is similar to the Christian's celebration in that both religions celebrate their redemption. While the Christians celebrate the redemption from the bondage of sin through the sacrifice of Christ is celebrated, a parallel of the Jewish Passover's celebration of redemption from bondage in the land of Egypt.
The following are excerpts taken from a beautiful blog called
Blood on the Door - Passover
"Take a bunch of hyssop, dip it into the blood in the basin and put some of the blood on the top and on both sides of the door frame Not one of you shall go out the door of his house until the morning.
~ Exodus 12:22
At the first Passover the blood of the lamb on the doorposts set apart the homes of those who believed and obeyed God from the homes of those who did not. The blood was a special mark for those who feared the Lord, which exempted them from the coming destruction. This is not the only time a special mark is used to single out and save those who followed the Lord.
In Ezekiel 9:4-6, Ezekiel has a vision from God regarding Jerusalem in which a man clothed in linen with a writing kit went through the city and marked the foreheads of those who "grieved and lamented the detestable things" done in the city. Other men armed with "deadly weapons" followed and slaughtered "without pity or compassion" those without the mark, whether women, men or children."
I was once married to a Jewish woman. She was not brought up in a Temple as a child by her family, but they did celebrate the High Holidays and I was blessed to be part of them and see them practiced. Until then I only experienced them academically. ~~ celebrations I learned about, but did not experience them. Beautiful conduits of spirituality.
The foundation of Christianity comes from the old testament and Judaism. I am blessed to learn and experience that foundation.
Remember, while we may have different ways of communication with our creator, we are all one people!