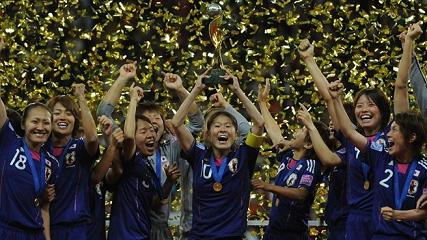 The hearts of many humans were touched when the scenes were shown to the world in video and photo images when Japan suffered the biggest natural disaster recorded in recent years with a triple whammy of a major earthquake, a major tsunami and nuclear power plants exploding with a long term concern for radiation exposure.
As you know, I dedicated a post here for prayers for the victims of our fellow humans and animals in Japan in this blog.
You may also know I am a soccer coach for young adults and I love the sport of soccer, otherwise known as football every where else in the world.
I followed the Women's World Cup very closely and holding on to my breath as though it might be my last one. It was a very emotional roller coaster with the US team, having overcome incredible odds to reach the finals in the tournament. In the soccer world, they will be replaying the game against Brazil over and over again as a classic.
When it came to the semi finals and the US comfortably beat France. Deep inside me I did not want the US to play Japan, not because Japan was more skillful, but because Japan was playing for something much more powerful than a trophy. They were playing for their damaged country. Each Japanese player had her own tragic story to tell about family and friends they lost in the recent disasters in Fukushima Japan. Before each game, from game one, they walked the around the entire field with a banner which said:
" To our friends around the world
Thank you for your Support"
You could feel the energy of Japan after they first beat Germany who was the first favorite to win it all. Japan was on a mission, a sacred one for their country which has been challenged like no other country in recent times in the world these past 4 plus months. You could feel the energy of their gratitude. They were sincere and full of love. They created magic in this stadium.
Before this Women's World Cup Japan had not made it to the semi-finals in this venue. They had never beaten the US team in any competition in over 20 matches.
When the final game started the US team was pounding on the door of Japan's net and it seemed so strange that so many shots just missed by inches but never found their way to the back of the net. It was like an invisible wall from an angle protecting the net for Japan. It could have easily been 4 to zero in favor of the US in the first 5 minutes of the game. I had a very uneasy (obviously rooting for the US) feeling about the US changes of winning when they had so many great shots without a goal. It was a rare set of circumstances I have ever seen before after all the years I have been coaching and playing the game.
Twice the US were winning by one as the game went on and twice Japan tied the game close to the last minute before it ended up in what we call Penalty Kicks to break the tie. Japan won!
While I was disappointed that the US did not win, I do believe in my heart that the team and county that needed this the most won the game.
These young ladies will be heroines in their country.
With this opportunity allow me to witness the beauty of the Japanese people who demonstrated an attitude of resolve when rations were past out immediately after disasters and when at all the people did not get any because there were not enough to go around, they simply bowed to the volunteers and walked away.
I am sad to say, there are many Americans who would scream and yell and might even riot and loot the stores as has happened in so many riots at least here in Los Angeles. May we all learn from the spirit of our family in Japan. Such a peaceful people. Hard to believe that we were at war with them. But then again, we first must find peace in ourselves before we can be at peace with others.
I bow to you my beautiful people!